Boris Johnson is refusing to sit down for talks with EU leaders until they agree to ditch the Irish backstop from the Brexit withdrawal agreement, despite invitations to meetings from the German chancellor, Angela Merkel, and the French president, Emmanuel Macron.
His official spokeswoman said the prime minister had made clear that he wanted to strike a deal, but that there was no point in holding face-to-face talks unless the EU agreed to reopen the agreement. But on a visit to the Trident nuclear base at Faslane in Scotland on Monday, Johnson painted a more optimistic picture of the prospects for talks, telling reporters there was "ample scope" to achieve a new deal. He said: "We are not aiming for a no-deal Brexit at all. What we want is to get a deal and I've had some interesting conversations with our European partners. I've talked to [the European commission president] Jean-Claude [Juncker] and Angela Merkel and we're reaching out today to [the Irish prime minister] Leo Varadkar. The feeling is, yes there's no change in their position, but it's very, very positive."
But he added: "They all know where we are: we can't accept the backstop, it was thrown out three times, the withdrawal agreement as it stands is dead and everybody gets that. But there is ample scope to do a new deal and a better deal." While Johnson has spoken to Merkel and Macron, there are no plans to accept their invitations to visit without a change in their position on the backstop. Irish officials are understood to view the delay in contacting Varadkar as indicative of an unwillingness to enter serious talks. Varadkar is adamant that the backstop must stay to prevent a return to a hard border on the island of Ireland and preserve the integrity of the single market.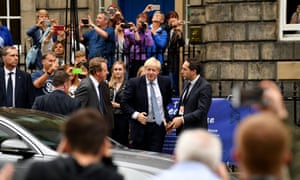 A Downing Street spokeswoman said: "The PM has been clear that he wants to meet EU leaders and negotiate, but not to sit down and be told that the EU cannot possibly reopen the withdrawal agreement. And that is the message that he has been giving to leaders when he has spoken to them on the telephone so far. "The EU has said up to now it is not willing to renegotiate [the backstop] … The prime minister would be happy to sit down with leaders when that position changes. But he is making it clear to everybody he speaks to that that needs to happen."
Asked about his plans to kickstart negotiations with the EU over the summer, after the foreign secretary, Dominic Raab, appeared to suggeston Monday morning that he would not reopen talks until the EU agreed to ditch the backstop, Johnson said: "I believe in reaching out. I've already been talking to colleagues around the table in Brussels, I have absolutely no inhibitions about that. We are going to engage and obviously ask for very profound changes to the current basis for leaving the EU." Although the formal position of the EU that there could be no further negotiations on the withdrawal agreement remained unchanged, he said, "they understand that the UK and the EU are two great political entities and it is possible for us to come up with a new deal that will be to the benefit of both sides".