Fans on Sunday spotted unusual form of racism in football. This the time around it was targeted at Nigerian International and Barcelona ace Asisat Oshoala.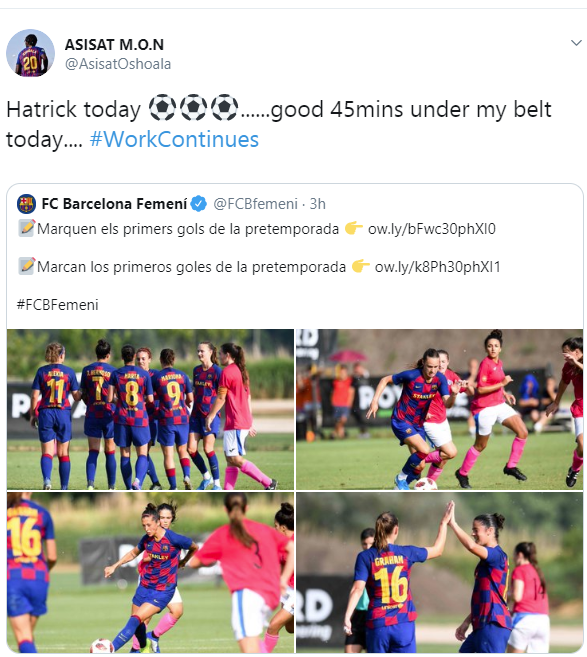 Oshoala was in fine form as Barcelona defeated AEM Lleida 13-0 to begin their pre-season training activities on Sunday, the 25-year-old came on as a substitute and scored a hat-trick in the one-sided warm-up encounter. But, the fans were left disappointed that their hero player was conspicuously omitted in the array of pictures posted on @FCBfemeni to share details of the match. Some of the fans even tongue lashed Oshoala for re-posting the team's pictures to tell the story of the match despite the fact that she was obviously left out in the shots.
They argued that there should be no room for racism in football and every player in professional club-side should be treated without bias, claiming that the club's official twitter handler were conspicuously bias on the Nigerian international.
Read some of fans reactions:
@akinoshofemi 
You scored a hatrick and your picture was not even posted to tell the story of the match? Racism at it's peak
@kbone_ And yet they didn't even put you in any of the pictures shared
@Ayo_Goodluck__ 
You know the things about skin colour?
@Acapela19  You weren't in the pics
@AleAngami Awesome job Asisat, dont mind them, cant wait to see you score bangers in the upcoming season!
However, a fan queried the racism claim stating; @hadeyshina07 how can u quickly judge like that haaa?
@MarianParrot 
Nice one. You are indeed football Queen. keep making us proud abroad. I thought of it today and it has happened. May God grace you with more wins.
The Nigeria international, who signed a permanent deal before heading to the Women's World Cup in June, reunited with her teammates in Spain on Wednesday. Mariona, who started the game, netted a hat-trick as Hamraoui and Vicky Losada got a brace each, while Marta Torrejón, Jenni Hermoso, Graham and Bonmati Aitana all scored once. On August 14, Oshoala will make a return to North London as her former club Arsenal take on Barcelona in a pre-season club-friendly. Cortes' side will be opening their new topflight side CD Tacon recently bought by Real Madrid on September 7. The FC Robo product, who scored eight goals in 11 matches last season, will be hoping to excel this term in Spain.